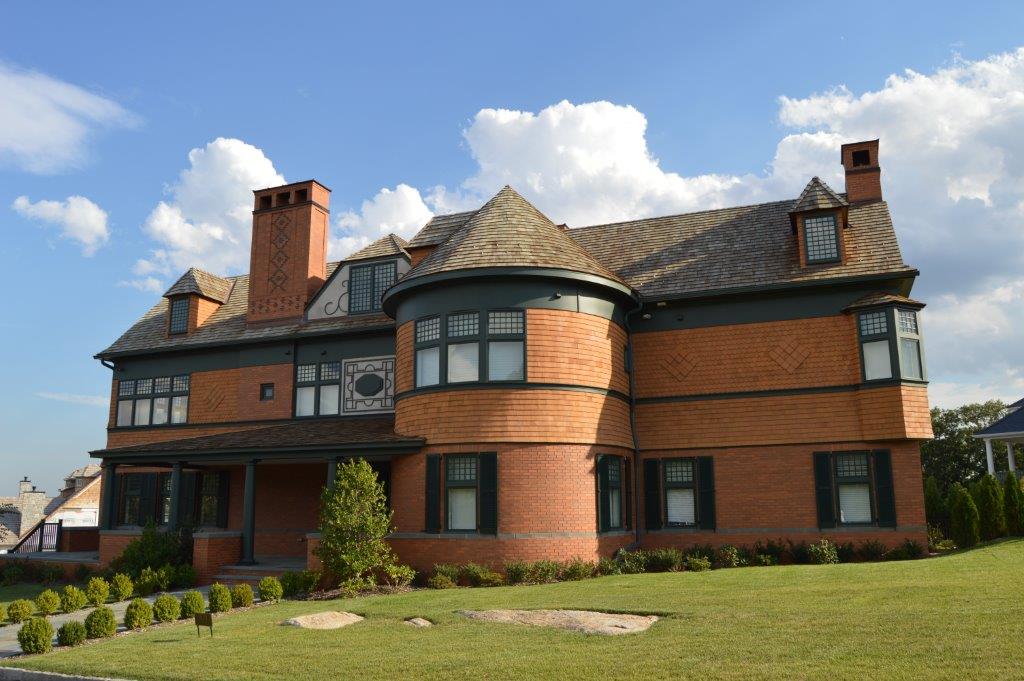 5041 Goodridge Avenue
This home has been influenced by Ochre Point in Newport, Rhode Island, a classic American style shingle home designed by McKim, Mead & White.  Most rooms have windows on two or three walls which allow for light-filled, spacious rooms with good views.  The house sits on one of the highest lots at Villanova Heights and has view out over neighbors.  Sweeping front and rear porches connect the house to the grounds and connect to a sheltered pool patio.  The house is 9,000 square feet on four levels, all services by the elevator.  A large motor court allows access to the three-car garage, which is a few steps from the elevator.
The First floor: 2,629 square feet
A sweeping entry hall provides a view out and a connection between the front and rear porches, while to your right it opens to the large living room with a column screen. The living room allows easy access to the pool, dining, or porch. The powder room and elevator are tucked away, while ahead the library and pool bath are convertible to a ground floor suite. To the left of the entry is the family room, opening to the kitchen, with close access to the Breakfast room.
The Second floor: 2,453 square feet
The large master suite has its own sitting room, deck, bath and his and her closets. The master bedroom, deck, and bath are aimed east with sweeping views out over the neighboring hills. There are three other bedrooms on the floor, each with a distinctive feature, such as a deck, corner nooks, or bow. They have two baths. There is a laundry on the floor.
The Penthouse: 1,995 square feet
Two bedrooms are on this floor, sharing a large, multi-chamber bath. The broad office has views out front and back, with a large closet.
The Basement: 2,779 square feet
The Basement contains the entry for the three car garage, a mudroom, exercise room, pantry, media room, and a spare bedroom with private bath. There are also mechanical rooms.
[gallery type="rectangular" ids="715,716,717,718"]