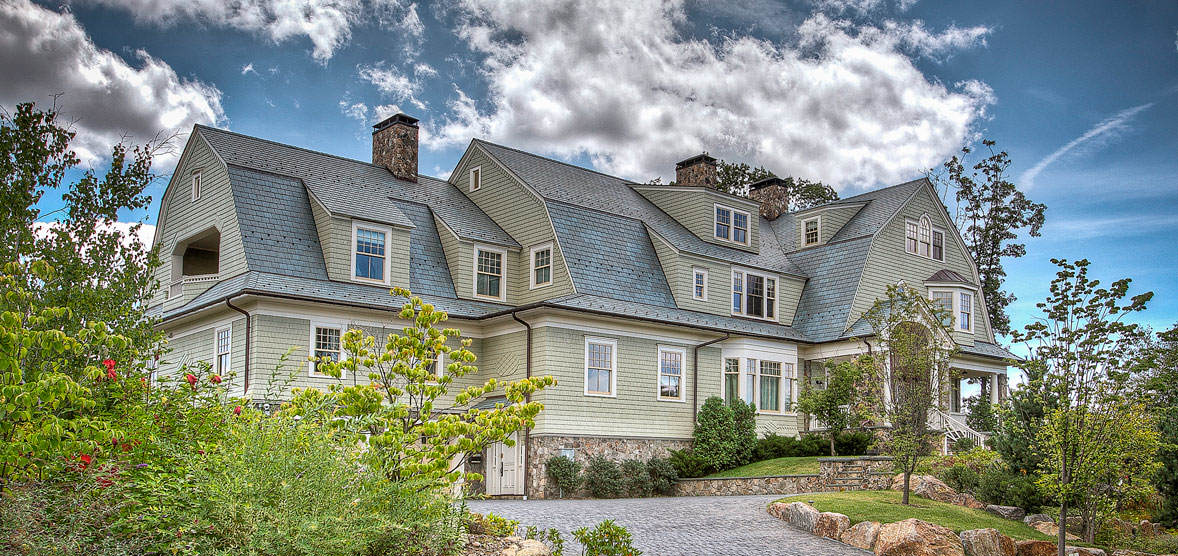 5051 Grosvenor Avenue
This Dutch Colonial is a classic and can be found throughout Riverdale and Westchester. The Dutch Colonial Revival style is characterized by its gambrel roof and natural shingle siding. This gracious home offers 13,195 square feet of living space on a lot of 25,140 square feet. All floors are accessed by the elevator.
The motor court provides additional parking to the three car garage. The rear of the house contains an outdoor pool area and a separate family lawn area. In addition, there is a library off the garden.
The First floor: 4,560 square feet
Entrance is to a two-story entrance hall which opens to the library, living room and the dining room. The library opens to a side garden and the living room to a wrap-around porch. There is a powder room and pantry between the dining room and the kitchen which contains a generously sized breakfast area. There is also another powder room and mud room off the entrance from the garage. Finally, there is a large family room.
The Second floor: 4,260 square feet
The master bedroom suite includes the master bedroom and sitting room which opens to a porch. There is a large walk-in closet and a master bathroom. In addition, there are four other bedrooms on the second floor each with its own bathroom and walk-in closet. Bedrooms #2 and 3 open to a side porch.
The Third floor: 2,110 square feet
The third floor contains a great room and a study. In addition there is a staff room and private bath for staff and a bonus room which opens to a porch and another bathroom.
The Basement: 2,265 square feet
The basement contains the entrance for the three-car garage, mud room and powder room off the garage, large game room, exercise room, wine cellar. In addition there are rooms for storage and mechanicals.
No image found!!!
No image found!!!
No image found!!!
No image found!!!
No image found!!!
No image found!!!
No image found!!!